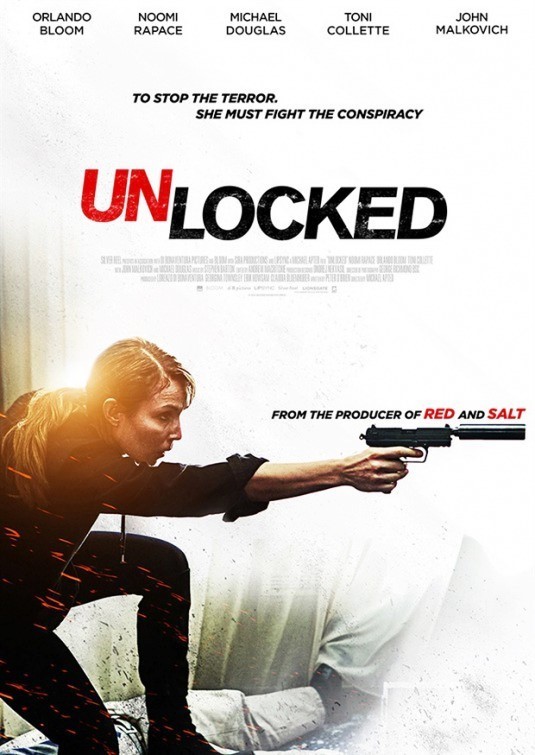 Spies don't even spies.
After failing to apprehend the terrorist behind a Paris attack that claimed dozens of lives, CIA agent Alice Racine (Noomi Rapace) is forced to spend the rest of her days in in London, living and working the boring task of being a caseworker. Out of the blue, though, her mentor (Michael Douglas) unexpectedly calls her back into action when the CIA discovers that another attack is imminent. And just like that, Alice is thrown back into the dangerous life of being a spy who has to get any sorts of information, by any means whatsoever. And that's exactly what happens, although, it's a lot more violent than she'd ever expected, especially when information she's able to draw out of a suspect is compromised and she becomes a target of every government agency known to man. Now, it's basically Alice back on the run, without any idea of where to go, or who to turn to, except to just use her smarts and ass-kicking abilities.
You wouldn't know it, or hell, even think about it, but Michael Apted's probably one of the best directors ever. Now granted, he hasn't necessarily changed the way we watch film, or take it in, but what he has proven, is that no matter where he goes, what he takes on, or whatever the hell it is that he's doing, he remains consistently good at it. Sure, you can say all that you want about some of his flicks, like the World is Not Enough, or even Nell, but the man has made some pretty great movies, over the past 40 years.
Which is why something as boring and silly as Unlocked feels like a bummer and an overall waste of everyone's time and talent, his especially.
Which is odd, because spy-thrillers seem to be Apted's niche; these dark, dirty and twisty tales of intrigue and violence seem to be up his alley, considering he knows how to keep the tension going, even when we're not sure where the story's are going. That's what sort of happens to Unlocked at first, until it just loses all control and hope in ever making sense, or even being entertaining.
See, the best part of these so-called "spy-thrillers", is that while they are twisty and turny, they still at least have some sense of understanding and cohesion. Meaning, there has to be a rhyme and a reason for someone to turn out to be, I don't know, either a spy for another agency, or not actually dead all of this time – throwing those twists out in the air and out of your ass, doesn't quite work. The best part of these thrillers is being able to follow along with everything, but also not knowing what to actually expect next, and yet, still have an idea of where it could go.
Make any sense?
Probably not, but hey, it's whatever. Unlocked is the kind of thriller that doesn't ever make sense of itself, its characters, where it wants to go, or hell, what it even wants to say. There's a lot of twists and turns for sure, but none of them ever make any sense. And when it turns out that we get a twist, a character has to go on and on for a four-five stanzas about why they did what they did, why they were deceitful, and why it's for the greater good. Which isn't to say that we don't see these twists coming from a mile away – one particular character's evil motivations are noticeable from the very beginning – it's just that they're so stupid in the first place, that to have to explain them, more and more and why they should make sense, doesn't work. It's sort of like telling a joke – if you have to explain it, it didn't work and therefore, isn't funny, or effective.
That's how it is with Unlocked's non-stop twists and turns: They don't make sense and probably weren't ever supposed to. Which is sometimes fine, but the movie's not all that much fun in the first place, with Apted turning in a disappointingly workmen-like direction, where it seems like even he's bored. Hell, the ensemble who, for some reason, is quite stacked, even feels like they're giving it their all, but ultimately, fall prey to lame editing and an even lamer script.
Noomi Rapace, as usual, is a bad-ass and knows how to play it, but who her character is, or what her motivations are beyond "saving humanity", is never quite clear; Michael Douglas shows up to sort of chew scenery; Toni Collette, sporting an Annie Lennox-do, is pretty bad-ass, but also randomly here; John Malkovich sort of chews scenery, too, although why he's even here in the first place is a total question-mark (I'd ask the same thing about Douglas, although one close look will actually show he produced the damn thing); and believe it or not, the best of them all is Orlando Bloom who, sporting a ridiculous cockney-accent, a crap-ton of tats, and gelled-up hair, seems to be having the most fun, playing up a rare villainous role.
He may be in the wrong movie for this much fun, but hey, I want that movie instead!
Consensus: The cast does definitely try, but through it all, Unlocked is too boring and over-written to really work as a smart, fun, and exciting spy-thriller, despite what Apted's previous credits may have you hoping and wishing for.
3.5 / 10
Photos Courtesy of: Aceshowbiz