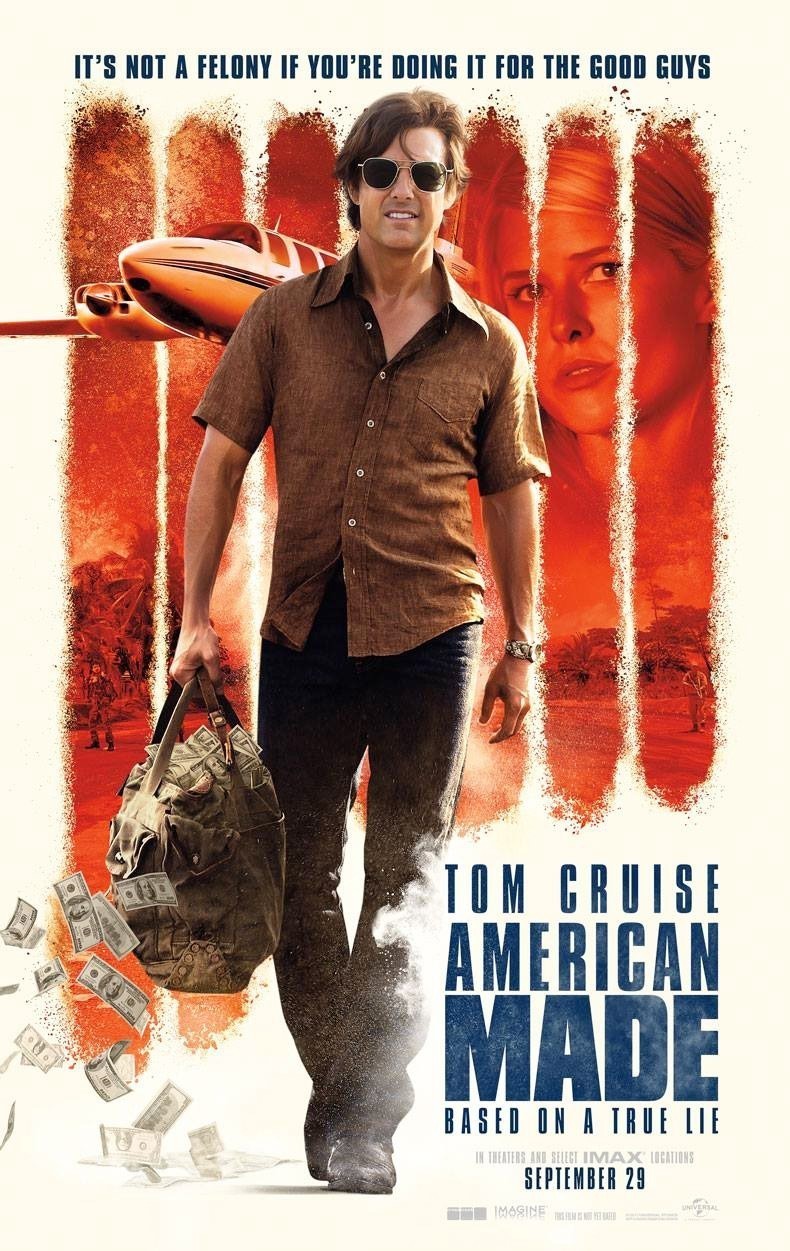 The American Dream.
It's the late 70's and Barry Seal (Tom Cruise) is enjoying the hell out of his life. He's got a nice job, working as a pilot for commercial airline TWA, married to a beautiful woman (Sarah Wright), and is relatively happy with how simple things are in his life. Sure, he could always have a little more money in his pocket, but hey, what's he to complain about? Well, things change for Barry when he's contacted by CIA agent, Monty Schafer (Doomnhall Gleeson), who asks Seal to fly clandestine reconnaissance missions for the CIA over South America using a small plane with cameras installed. But why? Well, it seems like Schafer has a little mission of his own, to not just get his name known, but use Barry as the reason for it. Eventually though, times begin to change and Barry begins to get ideas; rather than just doing these missions for Schafer and making a small amount of extra-cash, why not just help out the drug cartel in transporting such things as drugs, guns, and all sorts of other goodies?
Most of the negative-press towards American Made has been mostly about the fact that the movie plays fast-and-loose with its facts and takes what is, essentially, a dark, gritty, and sad tale about a dude transporting drugs and weapons across country-borders, and not really having the CIA crack down on him for it. And while this is no doubt a valuable criticism, it should also be noted that the movie doesn't really care about how serious you, or anyone else, takes it story – it doesn't, so who cares? All that matters, in the end, is whether or not this story deserves the big-screen treatment and is told in the most efficient, entertaining, and knowledgeable way possible.
And yes, that's exactly what happens.
As per usual, director Dough Liman knows how to make this material crack and sizzle at just about every second. While it takes some time to get off-the-ground, once we are sprung into this world of drugs, guns, sex, heat, and conspiracies, it never lets up. American Made very much feels like Blow, in that it's about, basically, a low-level dude trying to achieve the American Dream, while also not settling down to preach or cry about its sadness, but this movie's a whole lot more exciting and fun to watch – this movie takes its premise seriously enough to know of the very real-dangers, but also doesn't get too bogged down by them much, either. Much like Barry Seal himself, the movie knows what it's dealing with, but is willing and able to turn a blind-eye in hopes that it will make things a lot more enjoyable to watch.
And that's exactly what happens with American Made, the kind of movie that feels like it should be a lot more serious, but gets by entirely on its charm and quick pace. You can focus on the fact that it's about the government turning a blind-eye and using another middle-class American for their own game, but that's already to be expected. American Made has very much the same rather jokey, wink-wink true-story aspect that Narcos gets away with, but in this case, isn't a little afraid to play around with certain facts and anecdotes.
It's still a true story as is, but how many liberties were taken, honestly, we don't fully know.
What we know about American Made is that it gives us, in what seems like a millennium, an actual performance from Tom Cruise, that doesn't include much running or fancy stunts, but instead, a character, a personality, and oh yeah, plenty of opportunities to have some fun. And yes, Cruise reminds us all that he is, no matter how many silly blockbusters he does, a movie-star through and through; he can hang with the best of them, take over every scene he's in, and most importantly, sometimes make you forget you're watching Tom Cruise, movie-star. Cruise hasn't been able to do that in quite some time, but here, as Barry Seal, he does actually grow into this character and over time, we start to see less of Cruise, and more of Seal. Both are still charming as hell, but there's some subtle differences here that makes the performance all the more lovely to watch and marvel at.
Cause honestly, who knows the next time we're going to get a great performance from Cruise where he, believe it or not, actually acts? Let's just take our wins when we get them and be happy. And oh yeah, forget about the Mummy.
Everybody else already has.
Consensus: As entertatining and as fun, as it is informative, American Made doesn't pass itself off as a history-lesson, but feels like it's pulling double duty, while also reminding us that Tom Cruise is a freakin' movie-star.
7.5 / 10
Photos Courtesy of: Aceshowbiz