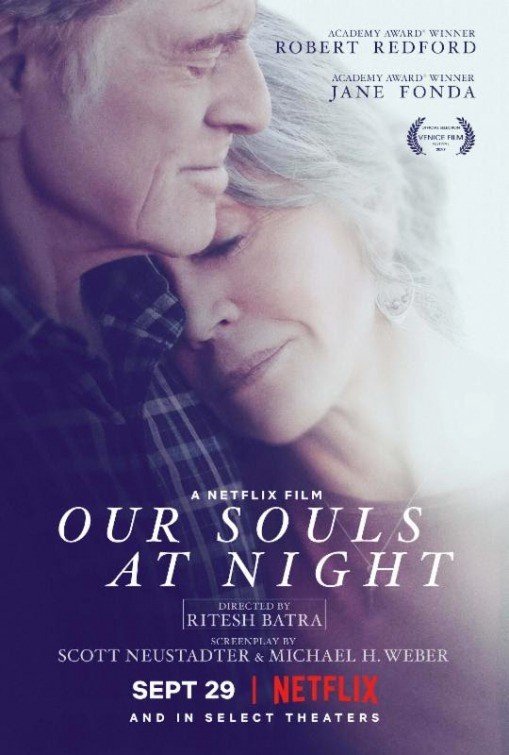 Old people have sex, too!
Louis (Robert Redford) and Addie (Jane Fonda) are two people who've been living next to each other for the past 40 or so years. They don't really know one another, live alone, and yeah, are basically trying to live out the rest of their days in absolute and total silence. Louis seems perfectly content with this, whereas Addie doesn't, and so, she offers him time to spend with her. Whether it's just sleeping in the same bed together, having dinner, or going out on casual dates, and giving each other company, she wants it all. She's not asking for sex, but just a human connection – something she hasn't had since the death of her husband. Louis is initially against it and a little antsy, but he soon starts to grow closer to Addie and realizes that he doesn't mind the company. Then, Addie's son, Gene (Matthias Schoenaerts), brings his son, Jamie (Iain Armitage), around, who then forges something of a connection with Louis. It's something Louis and Addie both appreciate, but Gene isn't too happy about, due to a shared-history the two families already share.
I've said it before and I guess, I'll say it again, having Netflix around is great for the entertainment business. Case in point, Our Souls at Night. Here's a movie that, had it ever been widely-released or produced by a major company, either 1) wouldn't have been made, 2) filled with ridiculously dumb and idiotic boner jokes, and/or 3) just wouldn't have felt so raw and fresh. While I do understand that there are numerous movies out there about old people, growing older, falling in love, and realizing the lives that they have lived, they don't nearly feel as contained, as honest, as realistic, and as lovely as Our Souls at Night.
Don't know if you can really say Netflix is the whole entire reason, but to me, it seems like that. Cause Netflix is willing to have faith in a project that, otherwise, wouldn't have found much funding or backing anywhere else, regardless of having two screen-legends in it, due mostly to the material itself, it gives me a greater-faith that more and more movies, small or big, creative or not, dumb or smart, will continue to find the help they deserve.
In other words, let's hope Netflix stays around, so long as that means we get more movies like Our Souls at Night.
Cause for one, it's a very smart movie that, due to the material, doesn't feel like it's in all that much of a rush to get anywhere. Director Ritesh Batra is very admirable in that he's willing to not trust the strong script, but to also allow for this material to breathe and move at its own pace. Batra doesn't really have add much conflict here, or feel like he's going to introduce any twists or turns – it's literally a story about two elderly people, hanging out, and enjoying whatever time they have left on this planet, but together. It's quite a beautiful little movie that made me happy just about every scene, whether it was just them two sitting in a room, speaking about past regrets, their hopes, dreams, aspirations, former-spouses, and the idea of dying.
It may sound boring and completely melancholy, but that's sort of the point. And oh yeah, it isn't boring. Cause the movie features both Robert Redford and Jane Fonda, together, after all this time, it's worth watching and having a ball with. Both are still amazing and handle their roles with a great deal of sincerity, heart, emotion, and sadness that feels fully-realized, as much as it feels honest. The movie never talks down to them for being old, or even a little cranky, which is why the time we spend with them, is just a joy; it's literally two of film's best, working with some solid material that not only gives them the respect they deserve, but enough opportunity to show the world that they've still got it.
Take note, Hollywood. Don't give up on the oldies!
The only issue Our Souls at Night seems to run into is that because it is so lax, so laid-back, so melancholy, and so meandering, in a sense, it does eventually feel the need to throw in a conflict here and there, which, when it comes around, feels shoe-horned in. Mostly, it all comes from Schoenaerts' Gene character who, right from the get-go, feels like a ticking time-bomb who wants to start trouble everywhere he goes. Are there people out there, just like this? Sure, but does one have to be in this movie? Not really. And it's why his performance not only suffers, but the movie itself.
But still, it's Redford and Fonda, baby. Love it while we got it.
Consensus: Even if it's a little slow, Our Souls at Night still features two of the greatest performers, ever, together again, enjoying the material, and making it all worth watching and sticking around for.
8 / 10
Photos Courtesy of: Netflix