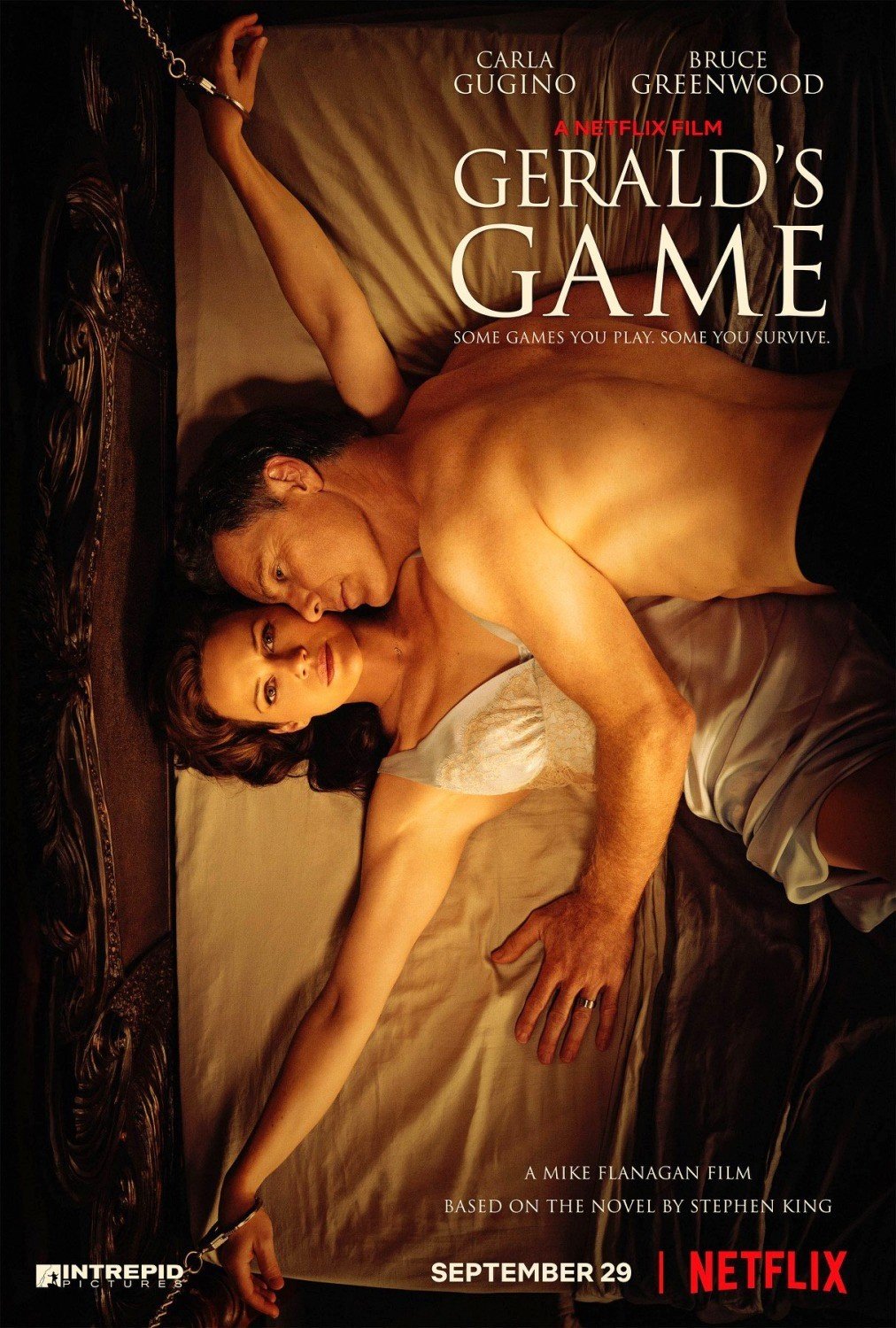 Lock her up!
Jessie (Carla Gugino) and Gerald (Bruce Greenwood) have been married for quite some time, and as is with an aging-couple, they've run out of a bit-of-steam. So, they decide to spend a little weekend away in a cabin together, with barely anyone else around, hanging out, and possibly, having lots of wild and crazy sex. Or at least, this is something that Gerald thinks is going to happen, until he ties up Jessie to the bed and she doesn't like it. But not taking a hint, Gerald goes for it anyway and soon, he keels over of a heart-attack. Now, Jessie is left all alone, in that room, tied to a bed, without any hopes of getting out. What's a girl to do? Figure out a way to get out, by any means imaginable? Or sit there, think about her life and talk to dead people, who are constantly ragging on her for the past mistakes she made as a kid?
Obviously, she goes for both.
Gerald's Game is the kind of movie that, as a 20-30-minute short, probably would have worked like gangbusters. It would have been short, sweet, tight and very tense. But instead, we get a 100-minute movie that feels over-stretched, long, meandering, and oh yeah, pretty boring. It's the kind of movie that so many people get disgusted by because it's dealing with hard-to-take ideas about sexuality, pedophilia and rape, but really is just a bore.
And it's a shame because it seemed like director Mike Flanagan was really going somewhere interesting and cool with his career. He was taking the horror-genre, finding new and smart ways to spin it around, play with conventions and never let us forget that, oh yeah, horror stories like this can sort of be fun. While Gerald's Game isn't necessarily a "horror" story, it's still one with darker, harsher undertones that makes it feel more vicious, somehow. Still, that doesn't save the movie from feeling like it's just spinning its wheels, figuring out where to go next, and exactly what to say.
Cause at the end of the day, what does it have to say?
Rape and incest is bad? That it has long-term effects? Marriage isn't always pretty, despite the sometimes lovely appearance to the common-man? Don't trust your elders? Honestly, I don't know. It wants to pass itself off as a character-study of one woman who, for basically the whole run-time, is tied to a bed-frame, stuck talking to herself and imaginary beings that constantly egg her on, but really, don't have much of anything to say. They just sort of hoot and holler at her for no reason because, uh, they're dead and angry? Right?
Once again, not sure. The only thing that I am sure of is that without Carla Gugino, the movie would have been a whole lot more awful than it actually was. Gugino, for many years now, has constantly been putting in great work, but it's mostly on the side; here, as Jessie, she shows us that she can carry a whole movie entirely on her own, staying swift and interesting to watch practically the whole way through. Due to this character's possible mental-illness, Gugino has a lot of showing to do and she gets by with it just fine, even if the script doesn't entirely help her out in those regards.
Same goes for Bruce Greenwood who, despite always being a welcome-presence, is just shirtless here the whole time and it doesn't really matter. He's just sort of there to instigate and piss-off Jessie, and that's it. It's a bit of a waste for someone like Greenwood, who can really make sleazy so charming, when he gets the opportunity to. It's not like Henry Thomas here who, in flashbacks, really does himself in as a total creeper and it works. While Thomas still has the childish looks, there's something darker and more sinister here that's hard not to take notice of.
If only the rest of the film was that easy to take notice of.
Consensus: Despite a solid performance from Gugino, as well as Thomas, Gerald's Game suffers from being way too mean and nasty, without much else going on, except a very limited plot and slow-moving pace.
4.5 / 10
Photos Courtesy of: Netflix