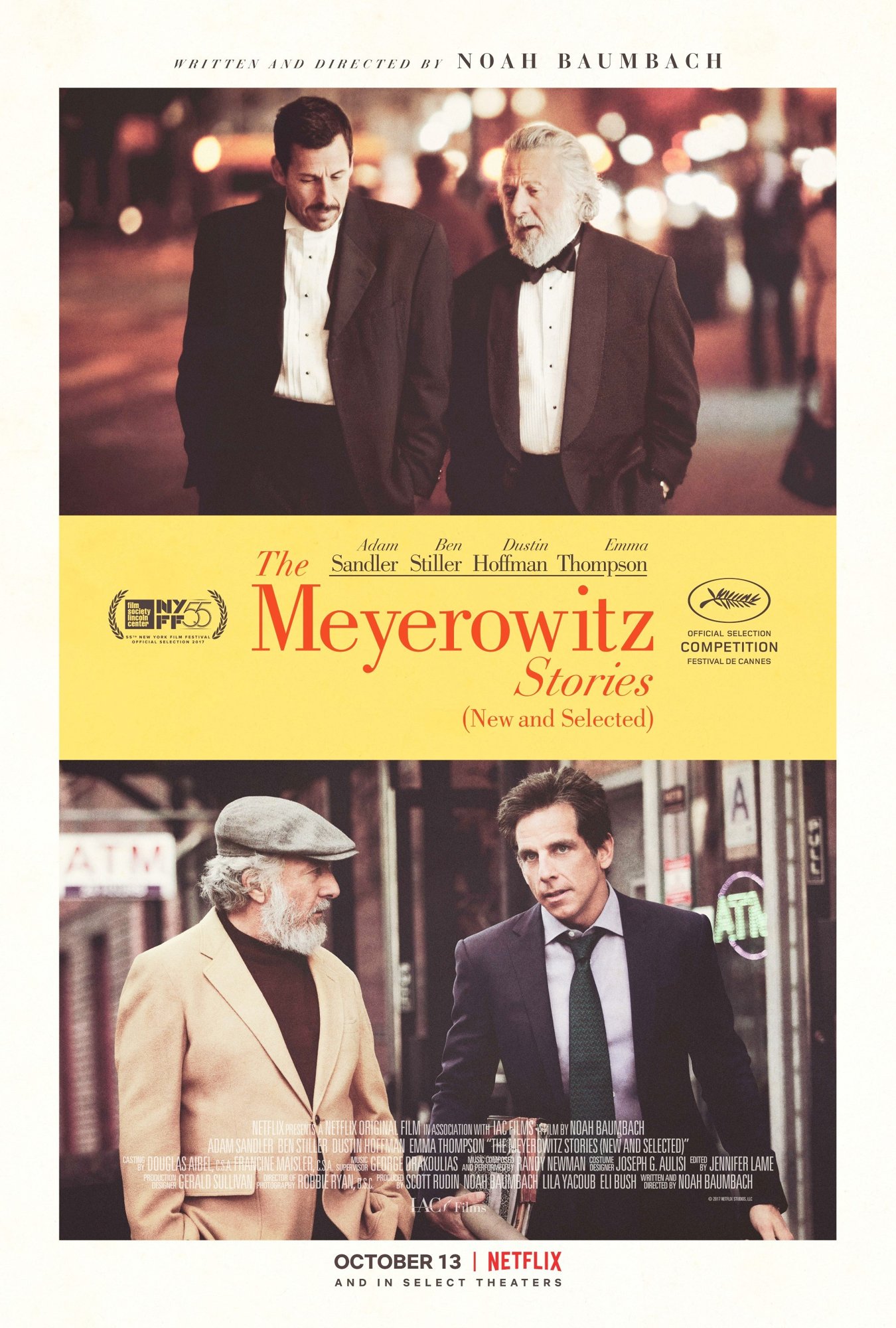 Family's enough competition as is.
Danny Meyerowitz (Adam Sandler) is going through a bit of a rough-patch in his life. He and his wife are separated, his daughter (Grace Van Patten) is going off to college to hopefully continue the family's long legacy of being artistically-sound, and he just lost his home, forcing him to have to move back in with his father, renowned sculpture-artist Harold (Dustin Hoffman). And by doing so, he also becomes closer with his sister, Jean (Elizabeth Marvel), and stepmother, Maureen (Emma Thompson). It's not too happy of a time for Danny and while his father knows this, he doesn't quite help the situation out much, either. Then enters Danny's half-brother, Michael (Ben Stiller), who his father loves and adores a lot more and for very obvious reasons – Michael is a lot more successful and Harold happened to marry his mother twice. While the two aren't really supposed to get along, they eventually try to tie the binds between them and get over the long years of familial strife and continue on the Meyerowitz legacy. Or at least, whatever is left of it.
Is Noah Baumbach a pretentious film-maker? A part of me likes to think that he is, but another part of me likes to think that he isn't. While there are certain movies of that I don't care for (Margot at the Wedding, Greenberg), there are others that I do (everything else), and it mostly all comes down to how unfathomable and unlikable his characters are. And in mostly all of Baumbach's films, that seems to be the case.
It's pretty interesting, really, that he's chosen to have his protagonists be challenging, somewhat unsympathetic human beings that, while we dislike the time we spend with them, they're still human and compelling. After all, the characters are either just like us, or like people we know, and while we may not want to spend two-hours with them, there's no denying the fact that actually spending time with them is rather refreshing. So yeah. I don't know if the fact that enjoys having his movies centered around these awful characters makes him pretentious, it just makes him, as well as his movies, a bitter pill to swallow.
But one that you'll probably be fine with afterwards.
And while in the Meyerowitz Stories, there's no really awful, unlikable, and reprehensible character here, they're all kind of annoying and a little deuchy. Then again, that's sort of the point. Family itself is raised on the notion of competition and who's more successful than the other, so when these characters all start bragging to one another about their great noble achievements, however small they may be, sure, it may be a little tiresome, but it all comes from a soft spot in their hearts that we can, at the very least, relate to.
Baumbach's a smart enough writer to at least know and understand that each of these characters all have something going for them, as well as a little something going for them. For instance, while Danny's made out to be a bit of a loser, he's also got a stronger connection to his daughter and most other humans than perhaps his half-brother, Michael will ever have with another person. On the flip-side of things though, Michael's also a lot more successful in his life and probably always will be, whereas Danny seems like he'll never get up off the couch and do something extraordinary with his life because, well, he's never had to, so why start now? It's an interesting contrast that follows just about every character in this movie, and while it may make them a wee bit over-bearing, they're still honest and raw.
And oh yeah, because of the ensemble, fun to watch, too.
Especially in the case of Danny, who gets a great performance out of Adam Sandler, for once and a blue moon. But what's interesting about Danny is that he's basically every other Adam Sandler character the guy's played in the past two decades or so: He's a man-child who doesn't know if he ever wants to grow up, how to do it, and is kind of sad. But in this case, the sad-sack has a lot more to him than just childish hi-jinx, as he's much more likable and sympathetic, and not just an all around dick. It's great to see Sandler in this kind of role, where he's literally forced to act and actually do something, and it shows us all that, yes, he's still got it, and when the Netflix money runs out, he can always turn back to arthouse, character-driven roles. So long as it's not something like the Cobbler.
Ben Stiller is, as usual, pretty good, too, playing another sort of dick-head who seems like he's got his whole life in-check, but really doesn't. Stiller's done a great job in his outings with Baumbach and while this isn't his most challenging, it still shows us that he and Baumbach help each other out in working better for the two. Together, Stiller and Sandler have a sort of anti-chemistry that, even though they're not supposed to like each other, they sort of do and it's quite a lovely little sight to see. After all, these are two of comedy's greats, finally together, once again, but instead of yucking it up for the nosebleeds, they're actually playing three-dimensional, fully-realized characters.
Wow. Funny how times change. Let's hope it stays that way.
Consensus: With a talented ensemble and a group of interesting characters, the Meyerowitz Stories is an honest, funny, and sometimes look at family and all of the hostilities that go along with it.
8 / 10
Photos Courtesy of: Netflix