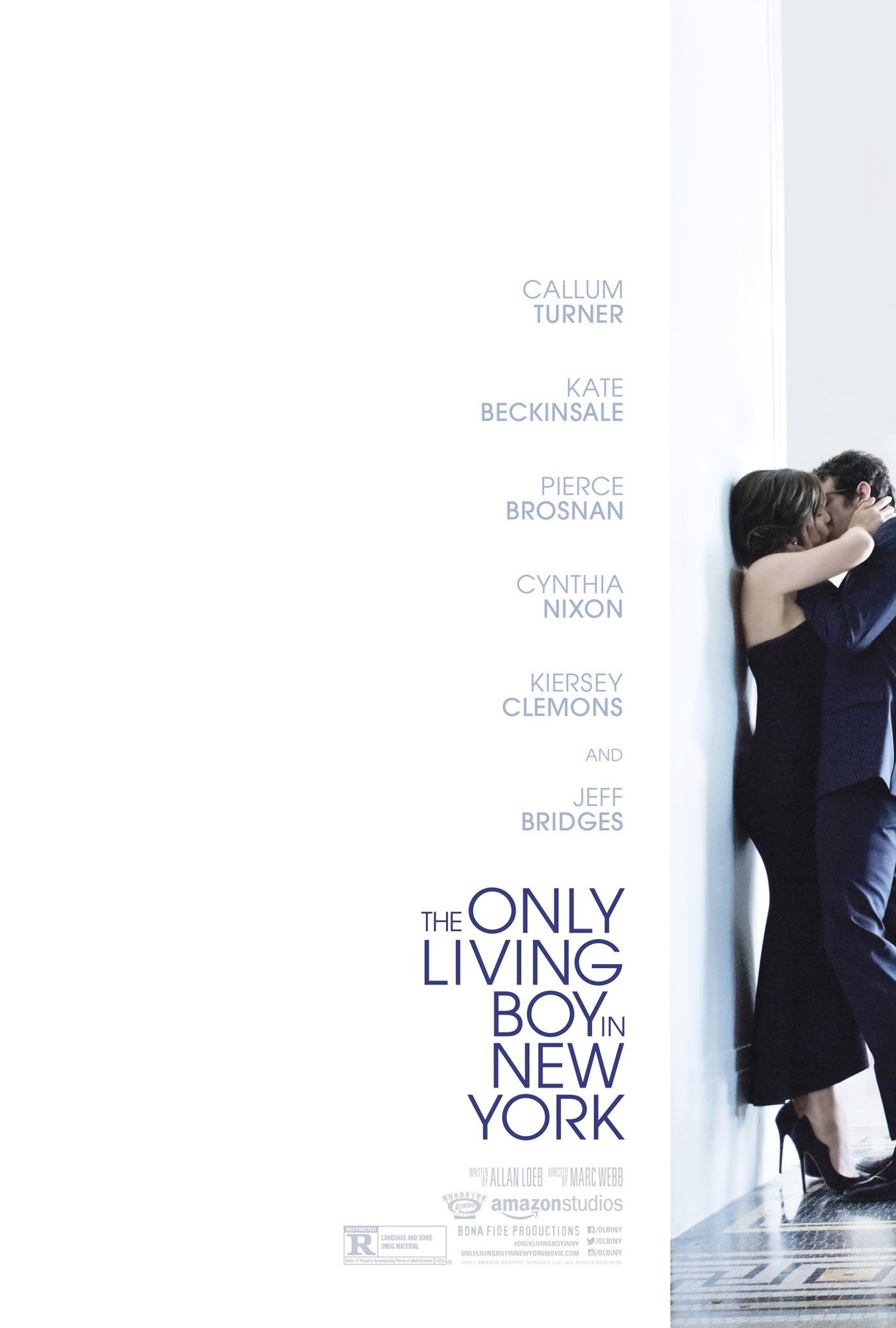 We all long for the New York City of the 50's!
After graduating from college and moving into an apartment, young Thomas Webb (Callum Turner) doesn't quite know what he wants to do just yet with his life. He's at that age where he's stuck, but also inspired and full of ambition, yet, at the same time, still left sitting down and wondering, "What's the point?" With the help of his alcoholic neighbor (Jeff Bridges), he hopes to find out what his purpose in life is next, even if that means sleeping with his father's mistress (Kate Beckinsale). Wait, what? Yep. For some reason, Thomas finds out that his father (Pierce Brosnan) isn't just sleeping around, but sleeping around on his mother (Cynthia Nixon), who is sick and doesn't seem to be getting any better. Thomas is sad and confused, but mostly, he just wants to grow-up, even if that means taking up after his dad.
The good thing about the Only Living Boy in New York is that it's just a tad bit over 85 minutes, making it a swift, quick, and meaningless little race of punishment. That said, the bad thing about the Only Living Boy is that it's still painful to get through, regardless of how long or short it is, because as we all know with bad movies, it doesn't matter how short they actually are, they always seem to go on forever. And ever.
And ever.
And that's the problem with the Only Living Boy, it just never works. Director Marc Webb and writer Allan Loeb seem to be working on two different platforms in terms of how they want this story to play-out, or even what the hell it is. Webb's a lot more grounded and subtle, whereas Loeb's writing, when not overly-talky and silly, feels like a crazy piece of melodrama that loves long-winded monologues about the good old days of New York, love, marriage, and fine pieces of literature. The movie just never comes together in a seamless way and it's a shame, because although Loeb has proven himself to be an awful writer, Webb's better than this, as we saw not too long ago with Gifted.
That said, there's no saving this sort of script. People go on and on, without making any sense, there's barely any drama, and the characters, as thinly-written as they may be, don't really register as actual characters, but as types. Callum Turner's Thomas is a typical frustrated and confused young adult who, underneath the glasses and shaggy hair, is just another male model waiting to crawl out. Jeff Bridges' alcoholic neighbor is just another one of those typically mysterious strangers, who has all of the answers and almost seems to be imaginary, until it turns out that he isn't in the most silly fashion imaginable. And yeah, that's about the same for almost everybody else.
Save Kate Beckinsale's Johanna who, honestly, both seem to deserve better than this.
For one, Beckinsale is a good actress who deserves better material to work with than whatever Loeb has here, but Johanna does give off some interest and promise every so often. She's the typical hussy character who sleeps with married-men, doesn't care, and is happy to just have money, fancy clothes, and a nice loft, but really, there's a bit more to her. She's sad, damaged, and in desperate need of some love – it's not just about sex for her, it's much more about actual human connection. It makes her surprisingly stronger of a character than you'd expect from something as dumb as this, but as I've said, it goes nowhere.
When your movie is so concerned with third-act twists about surrogate fathers and possible life-changers, who cares what's interesting or not? You just want the movie to end. Which, eventually, the Only Living Boy does.
Not as quick as its run-time would suggest, however.
Consensus: Despite a cast that tries, the Only Living Boy in New York is poorly-written and chock full of melodrama that neither connects, nor ever seems to be an actual story.
3.5 / 10
Photos Courtesy of: Aceshowbiz