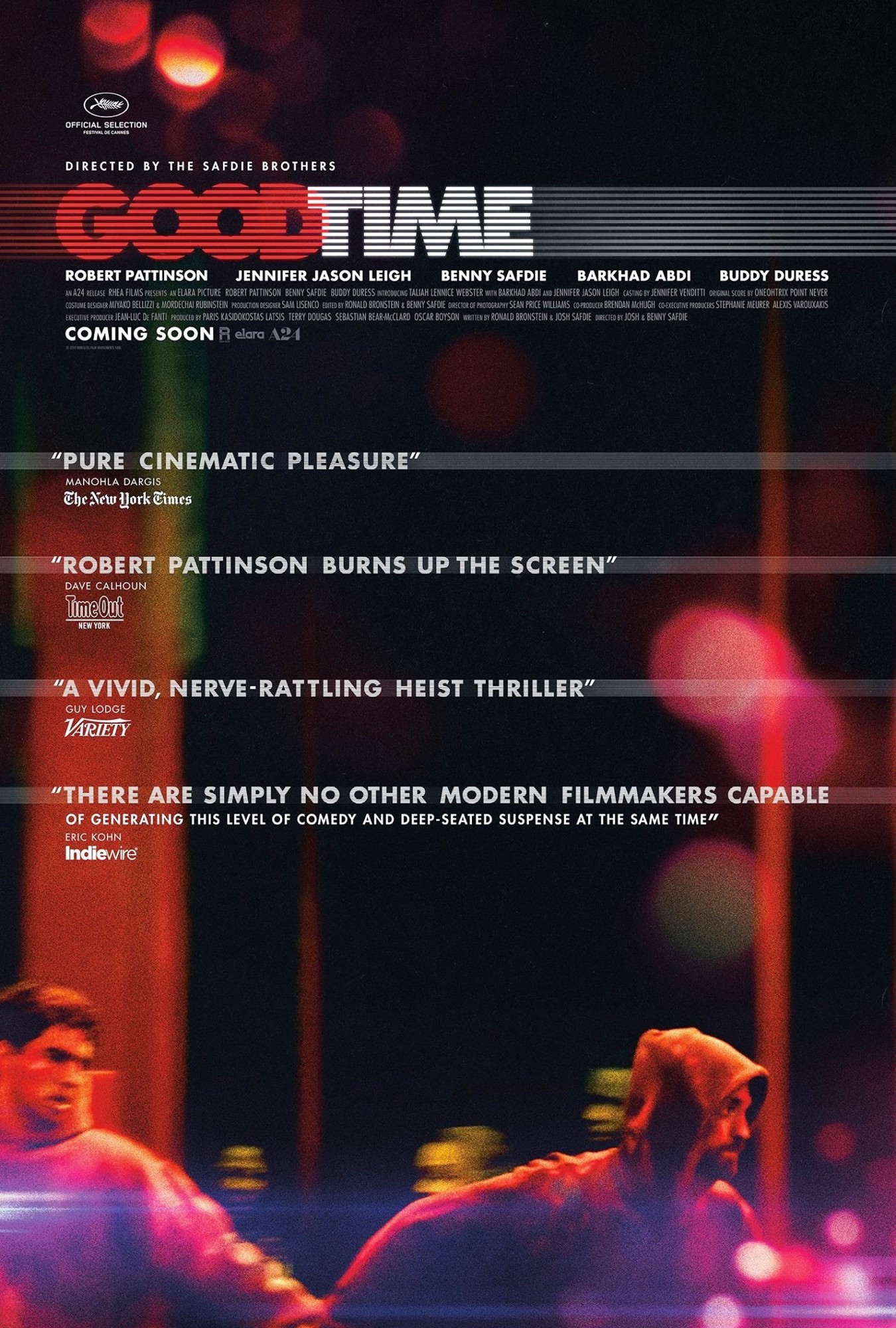 Oh. And it is.
After a botched robbery lands his brother in the slammer, Connie Nikas (Robert Pattinson) has to scrounge up whatever money he can find to ensure that his mentally-handicapped brother, Nick (Ben Safdie), gets out and is safe with him. But it's going to take a lot of wheeling, a lot of dealing, and oh yeah, a whole lot of money to do that. One thing leads to another and all of a sudden, Connie's night goes from bad to worse and it's all up to him to constantly think of what's the next best move to keep him alive, well, and out of the clink with his brother.
Short synopsis, I know, but that's the point. See, Good Time is one of those movies that's basically about the one night in hell, that never ends, continues to escalate, gets worse, and builds up to insane proportions of drugs, guns, money, murder, and cops. Lots and lots of cops.
But it's so damn thrilling and surprising, it hardly even matters that it ends on a conventional note.
Good Time is the latest from Ben and Joshua Safdie who have made a name with these small, lean, mean, and gritty indies that verge on pretentious, but still feel realistic enough that it's okay. In fact, the movies are so dirty and grueling, it's hard to look away from them; they feel so improvised and cheaply-made, you sort of have to sit and watch and see what they come up with next, even if it can get a little irritating. They've never been the biggest fans of plot and in Good Time, that actually helps.
In a way, it allows for the movie to move at an efficient pace, so that when the next crazy moment happens, it's shocking and surprising, and just adds to the chase. Most crime movies in this same vein and nature tend to get stuck in constant cliches of being on-the-run, not being able to trust anyone, and the constant double-crosses, but not Good Time. While those formulaic-moments do eventually come around, they still fit in a movie that zigs and zags around being conventional and above all else, stays thrilling.
Which is to say that Good Time is a "fun" movie, but not in the way you'd expect.
It's fast, fun, electrifying and, at certain points, downright crazy, but it does take its time to make sure that you're along for the ride, too. It would have been perfectly easy for the Safdie's to just make everything up as they went along, throwing ridiculous obstacle, over another, with reckless abandon, and never making it seem like our protagonist will reach his goal, or even survive the night, but they keep it close and contained. It helps us pulsate along with the thrill-ride, but also grow closer to this character who, despite not being the smartest or nicest guy around, is still damn compelling to watch.
And yes, people, that has to do with Robert Pattinson and is his great performance here. Sure, he's been good before and clearly tried to do whatever he could to get away from the Twilight spotlight, but often times, those roles felt a little on-the-nose and, unfortunately, weakly-written. In Good Time, Pattinson totally changes how we look at him, with shaggy hair, tons of facial-hair, and the look that makes you think he hasn't showered in a few weeks and it's a breath-taking performance. He's constantly on his feet, thinking of what the next best move is, and while it's not entirely smart, you still sort of believe and understand it, making this sometimes intense character, seem grounded in a state of reality.
He isn't, but who would want to be?
Anyway, Pattinson is great here, but really, it's Buddy Duress who steals the show. It's hard to say too much about his role, or how he enters the movie, but just know that when Duress enters the movie, the tempo changes. Hell, everything changes. It's all of a sudden a lot more funny, silly, dark, and damn violent, which makes it feel like this movie's going somewhere we truly haven't seen before, even if it has been done before.
Good Time is the kind of movie that doesn't feel like its re-inventing the wheel by any means, but by never letting up on the tension and always seeming one step ahead of us, it's one of the more exhilarating pieces of film I've seen this year. It gives me hope for not just Pattinson, for the Safdie's, or for indie-cinema, as a whole. But film, in general.
Let's hope that film doesn't let me down.
Consensus: Fast, fun, zippy, crazy, and anchored by an amazing lead performance from Pattinson, shedding his hunky looks, Good Time is just that, if not more.
9 / 10
Photos Courtesy of: A24