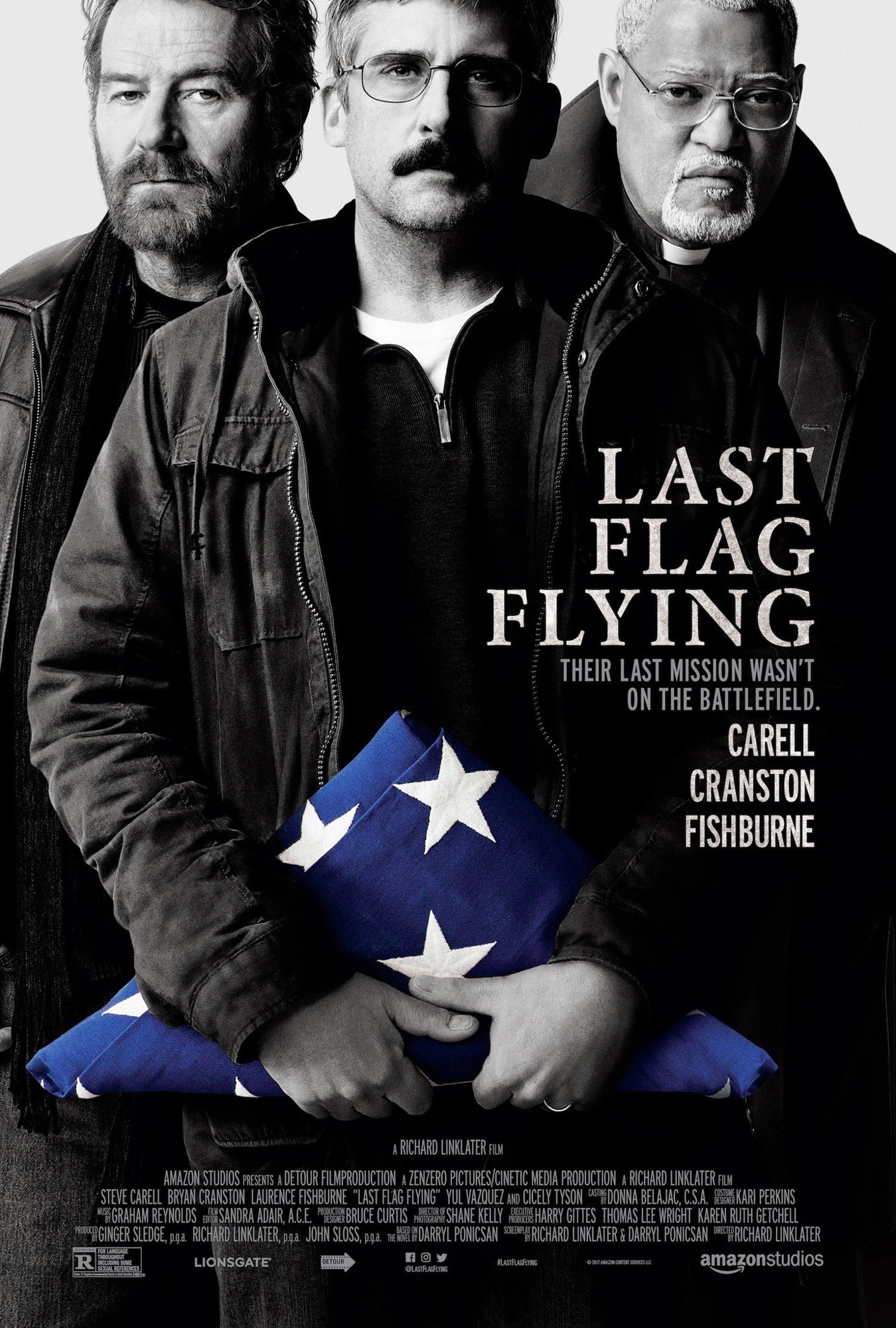 Can't get old. Just can't.
Thirty years after serving together in the Vietnam War, Larry "Doc" Shepherd (Steve Carell), Sal Nealon (Bryan Cranston) and the Rev. Richard Mueller (Laurence Fishburne) reunite to help bury Doc's son, a young Marine killed in Iraq. Even though it's typically routine in these kinds of cases, Doc doesn't want his son's body buried at Arlington National Cemetery, so the three decide to take a trip back to his hometown of New Hampshire. It's a road-trip, in the sense that they do a lot of travelling, whether it be by train, bus, or car, and that all three chew the fat and realizing how different each of their lives have been since they last all served and saw each other. But no matter what, no matter how old they get, how grey their hair turns, or how much they change in general, they will always be members of the Army and that is something that they wear with absolute and total pride.
A lot of people will hate Last Flag Flying because it's literally just all talking, it's slow, and it's barely concerning itself with a central-conflict. It's literally about three old war buddies, getting back together after all of these years, hanging out, drinking, smoking, eating, talking about the good old days, the not so good days, and oh yeah, driving to a destination that keeps changing somehow. It's not the kind of movie you see on a Friday night, before you head-off to the clubs, nor the kind of movie you go to after a few drinks – it's the kind of movie you see if you want chill-out, hang for a little bit, enjoy yourself, and who knows, maybe even tear-up a bit.
Some will say that's lame and boring. But I came pretty close to loving it.
Also, it's a movie directed and co-written by Richard Linklater, so what the hell do you expect? It's not a movie that entirely cares about getting on with plot and trying to throw us twists and turns to keep us alive and awake; in fact, the few times that the movie does attempt to do this, it's a little weird and clumsy. But when the movie is just the guys hanging out, talking, it's probably more compelling than any set-in-stone plot could have taken care of.
Most movies nowadays think that just having a bunch of good actors, playing well-written characters, and working with a smart script, doesn't really do the ticket. In a way, that can be true; it can sometimes be boring, slow, and pretentious, to a fault. But it can also benefit your movie, depending on how it's all paced.
Linklater, as he does with all of his movies, doesn't seem to be in any kind of a rush with Last Flag Flying, which is why it's sort of like spending a weekend with your grandpa or uncle. Fun times will be had, beers will be drank, cigars will be smoked, and nostalgia will overtake, but it's so easygoing and peaceful, that it's almost like it never happened in the first place. I know that makes it sound like Last Flag Flying is just a senseless, forgetful bit of drama, but it really isn't.
It has a heart, a soul, and a great trio of actors showing up and putting in some great work.
As expected though, right?
Oddly enough, Last Flag Flying is a quasi-sequel to Hal Ashby's the Last Detail, in the sense that the setting and plots are different, but the characters are still the same. It's pretty odd and a bit distracting; you can tell that Cranston is doing the loud, obnoxious Jack Nicholson role, whereas Steve Carrel is doing the silent, stern, and demanding Randy Quaid role. But really, it doesn't matter because the three are so good here, you forget about those movie-legends and remember that these three are even better.
Carrel's silence is deafening throughout the whole movie, because he's arguably the biggest star out of the three here, yet, doesn't have much to do or say. He's sort of like a macguffin in that the movie needs him to keep moving, but he literally never has anything to say, so it's almost like he isn't here. Laurence Fishburne's role, while initially seeming like it's going to be cliche, turns into something sweeter and darker, even if there feels like there's more about him to be developed. Then again, that's kind of the point; he's closed-off such a large part of his life already, so why wouldn't he close off much more portions of his life?
Then, there's the aforementioned Cranston who, in the Nicholson role, is pretty great.
Sure, it's loud, showy, and a tad annoying, but that's truly the point of his existence. Also, Cranston himself is so endearing and charming, you grow to just love and accept the guy for who he is, what he represents, and why there are so many more men and women out there, just like him, doing the best that they to get by for a country they put their lives on the line for, and didn't get all that much in return. It's a shame, but it's why we still have movies like this made.
Consensus: Despite being incredibly talky and meandering, Last Flag Flying also features smart, funny writing, with three great performers in the leads, that makes it go by so much quicker.
8 / 10
Photos Courtesy of: Amazon Studios