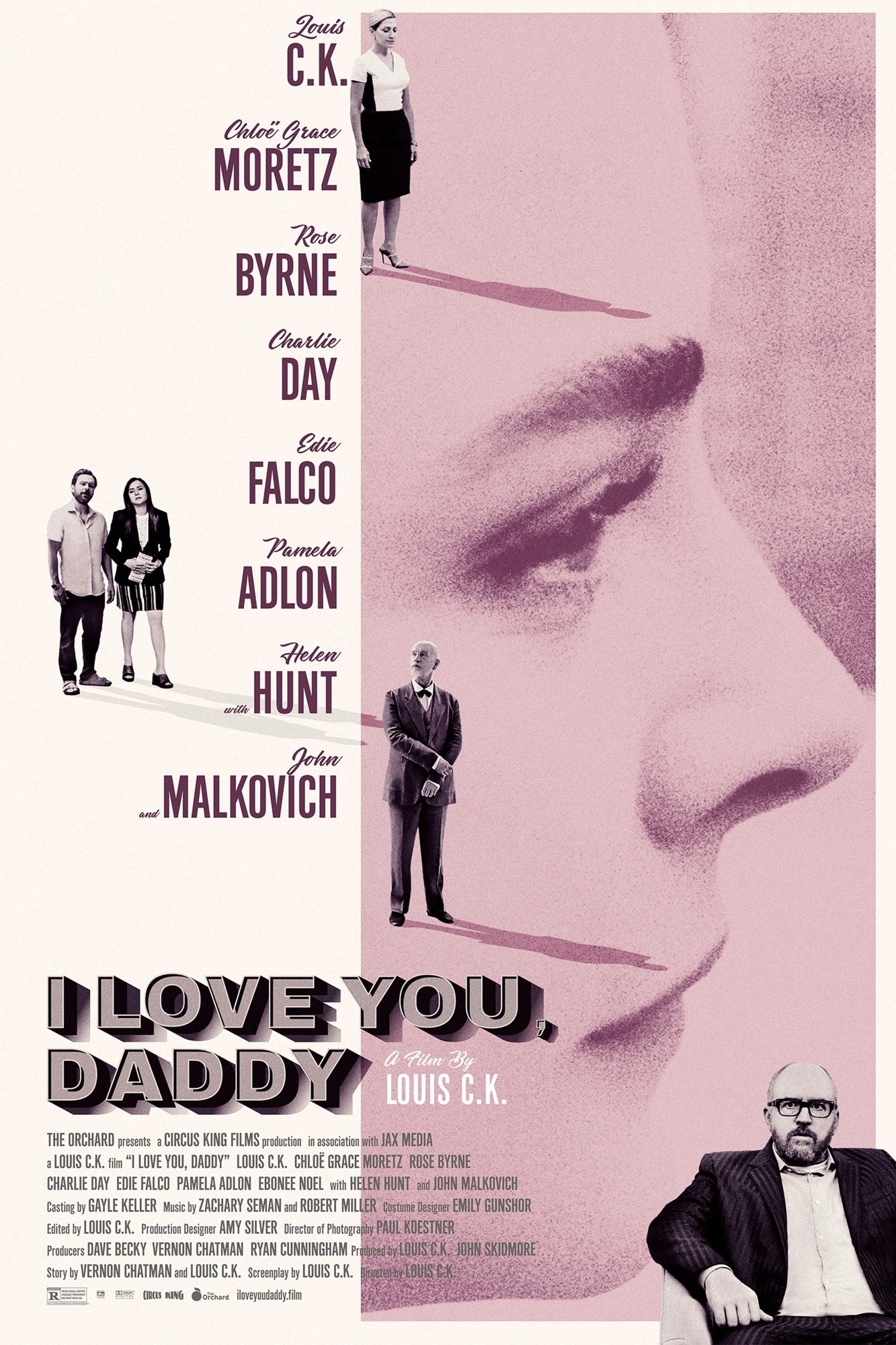 Probably intended to be a porno. Title included.
TV producer Glen Topher (Louis C.K.) has a pretty care-free and lax life. He likes his work, he loves his daughter, China (Chloe Grace Moretz), and yeah, doesn't seem to have many problems. The only problem that seems to be on his plate, at this current moment-in-time, is whether or not he's going to be able to bag his leading-actress (Rose Byrne), who also happens to be pregnant, for some reason. Also though, he's got issues with legendary writer/director Leslie Goodwin (John Malkovich), who strikes up something of a friendship with his 17-year-old daughter, making Glen feel all sorts of weird. Does he condone the friendship, that could suddenly turn into a relationship? Or, does he stick his head out of it because, like Leslie, Glen may be a bit of a dirt-bag, too?
So yes, obviously, I Love You, Daddy is a hard movie to review. All controversies aside, the movie doesn't seem like it will be released in the foreseeable future and if it does, hardly anyone will want to see it. Nor should they: It's a movie by a known sexual-abuser, that's literally about sexual politics, what's right, what's wrong, men being dirty, and women having to be on the tail-end of it all. It's like a Woody Allen (which it clearly aims for, uncomfortably so), but with a lot more F-bombs and n-words.
It's also kind of funny and well-acted, all things considered.
That's why, for me at least, I Love You, Daddy gets two ratings; one is for the movie I saw, two or three days before the New York Times article dropped, and the other, is for the kind of thought-process that went throughout my brain, days after having seen the movie, thinking about its intentions, and what it ultimately had to say. Cause for something like this, you truly can't treat it just like any other movie – sure, it wasn't made to be watched, thinking about what its co-writer/director/star does to do women inside locked closets and offices, but hey, we know this now and we can't help but think about this stuff. After all, like Louis himself, we're only human and can't help this stuff.
Even though, he certainly could have and should have.
Anyway, I Love You, Daddy is, at times, a funny movie and that's just because C.K. himself, is a funny writer. He knows how to write conversations between odd-ball characters that, while they may seem a tad unrealistic, still work because they're enjoyable and funny. It also helps that the ensemble here, is so impressive and stacked, that they make it all work, even when they shouldn't. C.K. is, as expected, a bit of a blank-slate, but that's sort of on-purpose – the movie wasn't entirely made to be just about him. The rest of the cast, like Malkovich, like Moretz, like Charlie Day, like Edie Falco, like Pamela Adlon, and most of all, like Rose Byrne, all get chances to bring some light and fun to this movie and they do.
They all shine with the material and sometimes allow us to forget how sleazy and mean it can get. Byrne especially who feels like a real, understated and smart character, and trapped inside something that should have done a whole lot more with her, rather than just having to sleep with its co-writer/director/star. After all, it's a little strange that she's pregnant and hardly anyone brings it up.
But once you get past that, don't forget, the movie is dirty, mean, sleazy, and most of all, troubling.
There are certain conversations that happen in this movie, where it's C.K's character, talking and going on about what is right, what isn't, and what certain people shouldn't do during sex. There's a few scenes or so like this, which are entertaining to listen to, but also eerily insightful into the way that C.K. himself thinks and feels about these topics. It's weird and in a way, disgusting; to think that a man who literally trapped women to watch him masturbate, would write a movie where consent is something joked about, isn't just stupid, it's downright wrong. It's the kind of movie where you know Louis wanted to be smarter than he looks here, but he just can't.
We already know way too much about him, his perverted ways, and what he thinks is, and isn't allowed when it comes to sex. I Love You, Daddy only helps to prove his misunderstanding of everything and it doesn't make matters any better that the movie may never reach the general-public, or ever be seen.
And maybe it's better off that way.
Consensus: Even with a very good cast and some funny writing, I Love You, Daddy is also a rather queasy, somewhat dirty look into the mind of C.K., which we already know, is pretty troubling.
Before Controversy: 6 / 10
After: 3 / 10