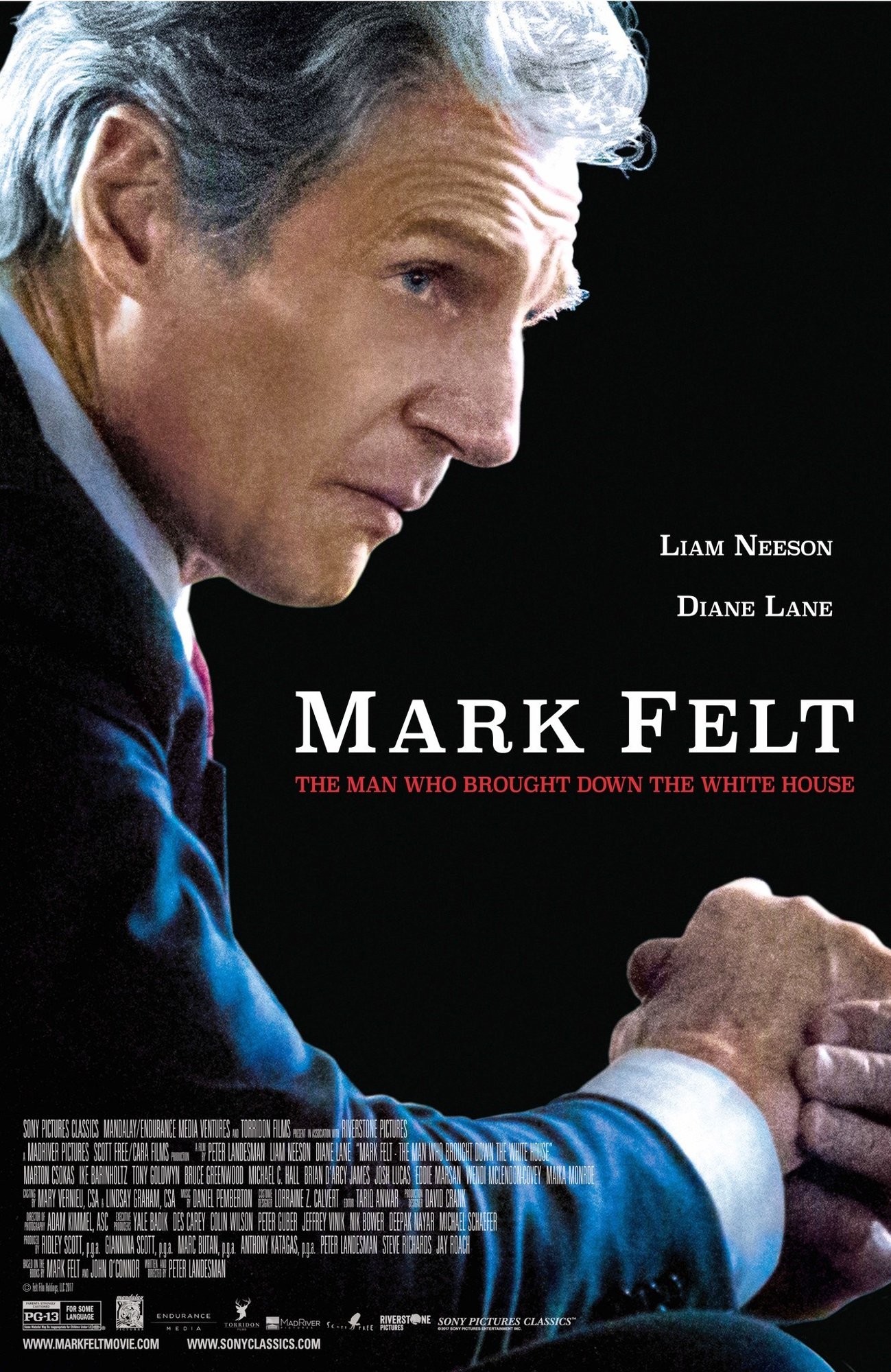 Takes one whistle to blow.
Mark Felt (Liam Neeson) was just any other ordinary man, living in America, trying to do right by his country. He worked for the FBI, believed in the values the country was founded on, and mostly, wanted peace, love and harmony. He also wanted a happy marriage with his wife Audrey (Diane Lane), and to find his daughter Joan (Maika Monroe), so that she could come home once and for all and they could go back to being the perfect, little family. But soon, Felt will find out that like his family, the United States government can't just be put back to perfect, because, in all honesty, it wasn't even perfect to begin with. It's a realization that shocks him and forces him to take matters into his own hands and do what we all call "leak".
And the rest is, I guess, history.
With three movies under his best (Parkland, Concussion, this) writer/director Peter Landesman shows that he has knack for assembling ridiculously impressive ensembles for fact-based, true-life dramas that seem like they're more important than they actually are. Parkland was a movie about the different viewpoints on JFK's assassination, but mostly just seemed like an attempt at doing Crash, but with a twist, whereas Concussion was a little bit of a better movie in that it tackled a hot-topic issue with honesty and featured a great Will Smith role, but ultimately, felt like it came out too early and would have been better suited as a documentary.
Now, Landesman is tackling Mark Felt, his life, and the whistle that he blew on the United States government and it's about the same thing going on again: Big cast, big situations, big history, but almost little-to-no impact.
And that's the real issue it seems like with Landseman – he's good at assembling all of the pieces, like a cast, a solid story to tell, and a nice look to his movies, but he never gets to their emotional cores. They feel like, if anything, glossy, over-budgeted reenactments your grandparents would watch on the History channel and have about the same amount of emotion going on behind them. Every chance we're being told that "something is important", it mostly doesn't connect and feels like Landseman capitalizing everything in the script, but never trying to connect with the actual audience themselves. It's one thing to educate and inform, but it's another to just do that and forget to allow us to care, or even give us a reason.
Which is a shame in the case of Mark Felt, the movie, because at the center, there's a real heartfelt and timeless message about how we need men like Felt to stand up to Big Daddy government, tell important secrets, so that the citizens of the U.S. know just what sort of wrongdoings are being committed on their behalf. Landseman clearly makes his case of who's side he's on here, which is also the problem, but his admiration is nice: We need more Felt's in the world, especially when it seems like our government is getting involved with shadier and shadier stuff.
Issue is, that message is left in a movie that never gets off the ground for a single second.
Cause even though the cast is stacked and everyone here, including a solid Neeson, are all good, the material gets in the way. It's too busy going through the bullet-points of who everyone is, what their relation to the story is, and why they're supposed to matter, that we don't actually get to know anyone, especially Felt himself. He himself feels like another bad-ass Liam Neeson character, but instead of finding people and killing them, he's just taking information in and leaking it out to the presses. It's really all there is to him here, as well as the rest of the movie.
Shame, too, because we need more Mark Felt's in the world. Regardless of what those in power may want or say.
Consensus: Even with a solid ensemble, Mark Felt never gets off the ground and always feels like it's too busy educating us, and not ever letting us have a moment to care.
3 / 10
Photos Courtesy of: Sony Pictures Classics