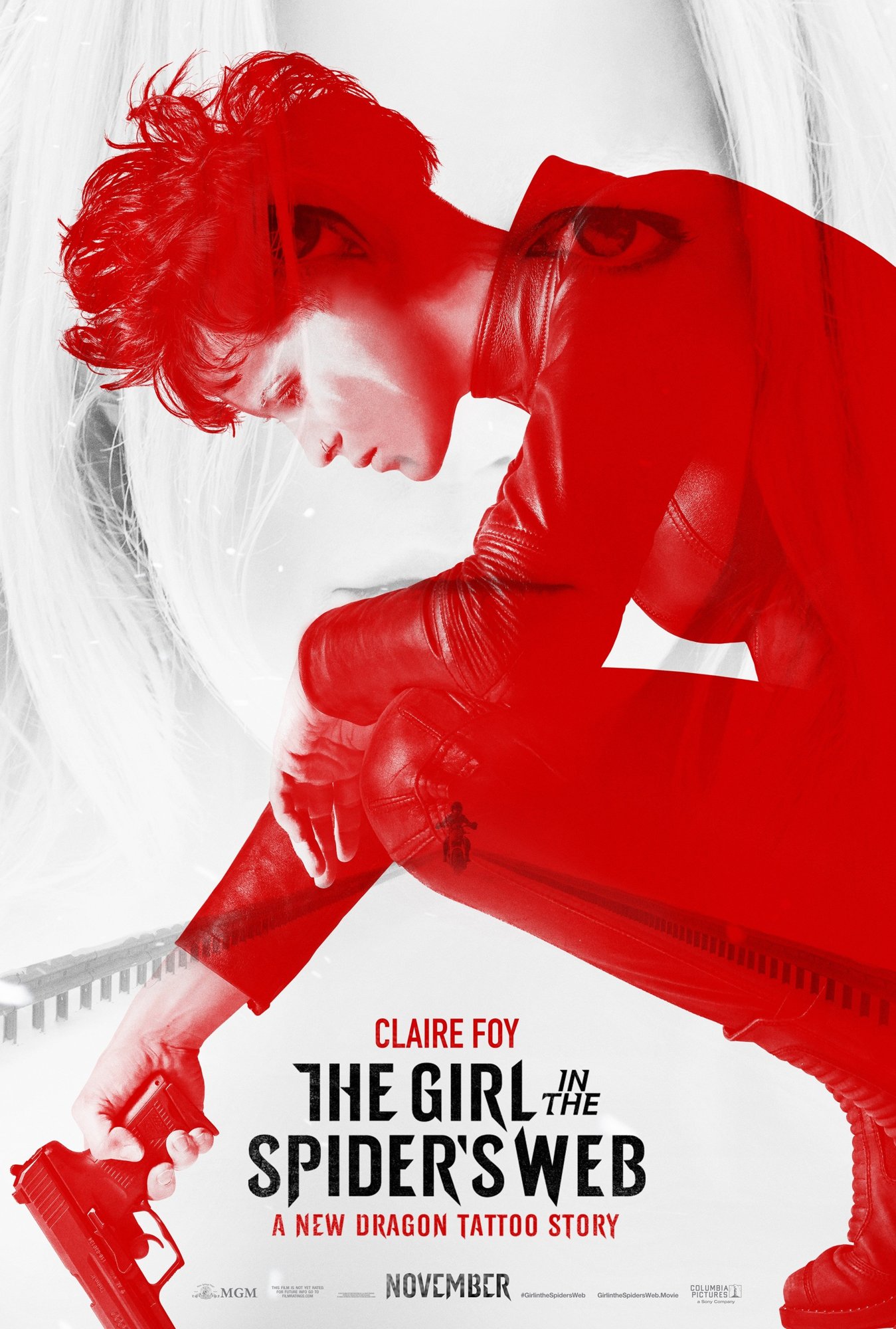 This girl is on fire. No, literally.
Lisbeth Salander (Claire Foy) is a super-duper, bad-ass hacker from Sweden who does a lot of high-risk jobs, for great pay and usually don't get too involved with how murky the morality of it all can get. But her life changes when she's asked to hack into a program called FireWall, which can access the codes for every nuclear weapon everywhere. The job is so risky, however, that she eventually catches the eye of Alona (LaKeith Stanfield), an NSA agent who decides that he needs to fly out to Stockholm to see what's going on. Turns out, there's a lot. Not only is Lisbeth being tracked down and targeted by the government, but a bunch of awful Russian thugs are hot on her tracks, too. And if that wasn't bad enough, turns out that the band of Russian thugs are being led by her estranged sister, Camilla (Sylvia Hoeks), who she long thought was dead. Now, it's up to Lisbeth to not just save these launch-codes for landing in the wrong hands, but stay alive.t
At this point I would also want to mention that Lisbeth's on-again, off-again buddy Mikael Blokmkvist (Sverrir Gudnason) is in the midst of all this, trying to get a good story, but really, he's not much of a factor.
Anyway, after four movies, including the Hollywood reboot from a few years ago, it seems as if we'll never not see Lisbeth Salander's story told to us on the big-screen and honestly, that's alright. She's a strong, powerful, and ridiculously bad-ass protagonist to have in your movie and the actresses that they've gotten to portray her have all been fantastic. Claire Foy is a solid inclusion to the list because she never feels as if she's trying too hard to be a brutally rough and challenged person – she sort of just is. It's not a very flashy role, really, but what we see out of Foy is that what she doesn't make-up in her frame and stature, she sure than makes up for in her presence and it's great to see her do whatever it is that she can to play further and further away from the Crown.
But the main reason why we don't really get a whole lot out of Lisbeth is because the Girl in the Spider's Web is filled with so much other stuff going on, we don't really have the time to settle things down and focus on her, her problems and her life. Even from the very start, she's on a revenge-mission, and after that, we only get about five-to-seven-minutes of her going to a club, having sex, having the awkward post-coital chat, and then she's off to another mission. We get backstory, of course, but it almost feels like the movie was a little too afraid to focus on Lisbeth because they feared that the audience may get bored.
Because what we need instead is more hacking, thugs, and government-agencies, right?
Well, yes, and no.
Co-writer/director Fede Álvarez brings a horror-edge to an otherwise conventional and sort of typical thriller and helps it move in a snappy way, even when it does seem like a lot is happening, yet, nothing's really happening at all. For a movie that's literally about a bunch of launch-codes getting stolen, there's an awful lot of twists, turns, reveals, and hidden-agendas that seem to come out of nowhere and only serve as a way to spice-up stuff that would otherwise be a little dry. Still, each and every time the movie found a way to annoy me, it then did something cool, fun, or intense, proving that all you need is to move things along in a thriller as silly as this.
Cause if you don't, then we're left with a lot of questions to ponder. Like, for instance, how come literally nobody kills Lisbeth when they have the chance and probably should? Also, speaking of Lisbeth, how in the hell does she have a motorcycle that can run on the ice? And why is it never brought-up again? Why is Mikael even here? Did we really need the NSA agent involved? And why is the NSA agent allowed to walk freely around Sweden, even when it's known that if he does such a thing, then he will be sent back to the states?
Yeah, a lot of questions. I guess I shouldn't ask, just sit back, and enjoy the fun.
Or something of that nature.
Consensus: Though it constantly tows the line between being trashy fun and just plain silly, the Girl in the Spider's Web is an entertaining reboot of the franchise and hopefully spells good for the future, especially with Foy in the lead.
6.5 / 10
Photos Courtesy of: Columbia Pictures