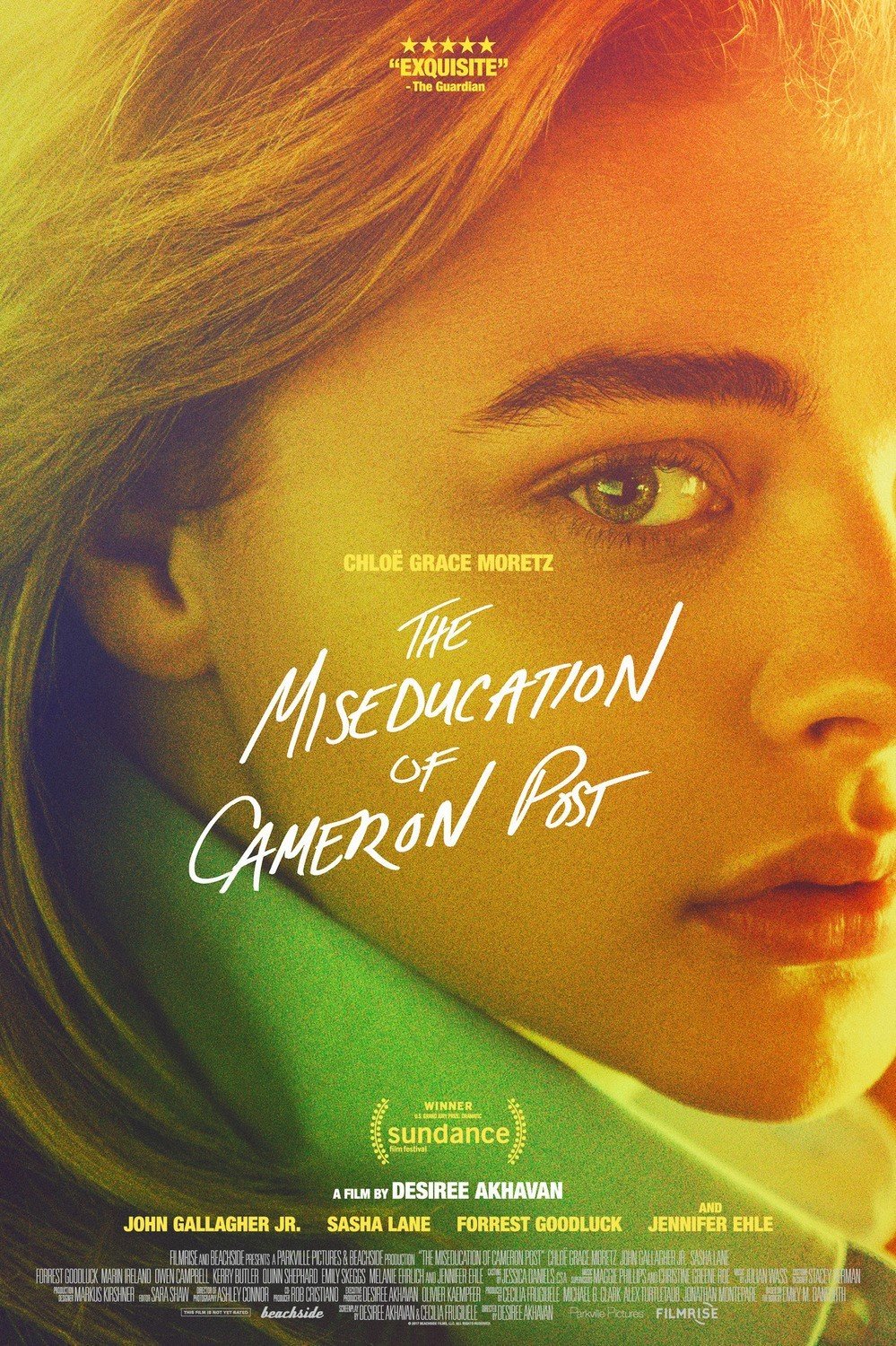 It gets better?
After getting caught by her boyfriend in the back of a car with her best friend (Quinn Shephard), Cameron (Chloe Grace Moretz) is sent to a conversion-therapy camp called "God's Plan", that's located somewhere in the woods of Montana. At first, Cameron doesn't quite know what to make of the camp, the people there, or better yet, even herself; it's 1993, she's still young and figuring out what it is that she wants in life, and whether or not she's actually, well, gay. There, she discovers who she really is and also realizes that the people around her that also seeking "treatment", are sort of in the same spot as her – they don't really know, but their conservative parents got so scared and petrified of their possibly gay-leanings that they sent them away in hopes that they would be "cured" of this "disease". Eventually, Cameron begins to figure out a way to get out of the camp and live her own life, the way she wants to.
The Miseducation of Cameron Post deals with the very awful and harsh topic of conversion-therapy and in a way, doesn't really have to be about much else. It's like a documentary that's encountered the subject of a lifetime and doesn't need much of a hook or much else to do – just placing the camera there is more than enough to get the job done. And as is the case with the Miseducation, it's a movie that deals with a topic that's ridiculously controversial and honestly, weird, that just watching it all play-out is more than interesting enough.
Co-writer/director Desiree Akhavan does a little bit more though and actually gets us to know and understand Cameron herself, and all the people that surround her. It would have been incredibly easy for Akhavan to really dig hard into the Christians who run this camp, but really, she humanizes them that makes them even scarier; to think that someone as evil and almost twisted as Jennifer Ehle's counselor is actual human being and is out there in the world, holding this power over these young minds and souls, is absolutely frightening. Even Cameron's aunt, who would otherwise be an over-the-top look at villainy and small-mindedness that often comes with the Catholic Church, still seems like an honest woman who just doesn't know what to do.
After all, it's 1993 and LGBTQ rights and civil liberties were still some ways away, let alone wholly accepted by small-town America.
Regardless, Akhavan does a lot with just putting the camera down and letting everything play-out in front of our own eyes. It's a little tense, a little scary, and rather sad, considering that this stuff really does exist out there in the world. It's also probably why, by the end, the Miseducation doesn't quite know what to do or make of itself and feels like it needs an ending, with some answers, and it can't quite give, either.
For instance, it ends on a note that makes it feel like there's possibly more to the story, or maybe even a part or two missing that seems like only happened because, well, that's all the material that was left for Akhavan. So yeah, it's really hard to fault her, but for all of the emotional intensity and power the Miseducation was creating and constantly building and building, it ends on a rather underwhelming note. But then again, maybe that's how the real story played-out and makes you think: Not all of life is a bunch of emotional fireworks.
Sometimes, it just meanders and moves at a steadily normal, melodic pace.
Doesn't make for an exciting movie, but hey, that's life! Literally!
Consensus: With a smart, tender and thoughtful direction from Akhavan, the Miseducation becomes an interesting, surprisingly humane look at the harshly awful realities of conversion-therapy.
7 / 10
Photos Courtesy of: FilmRise