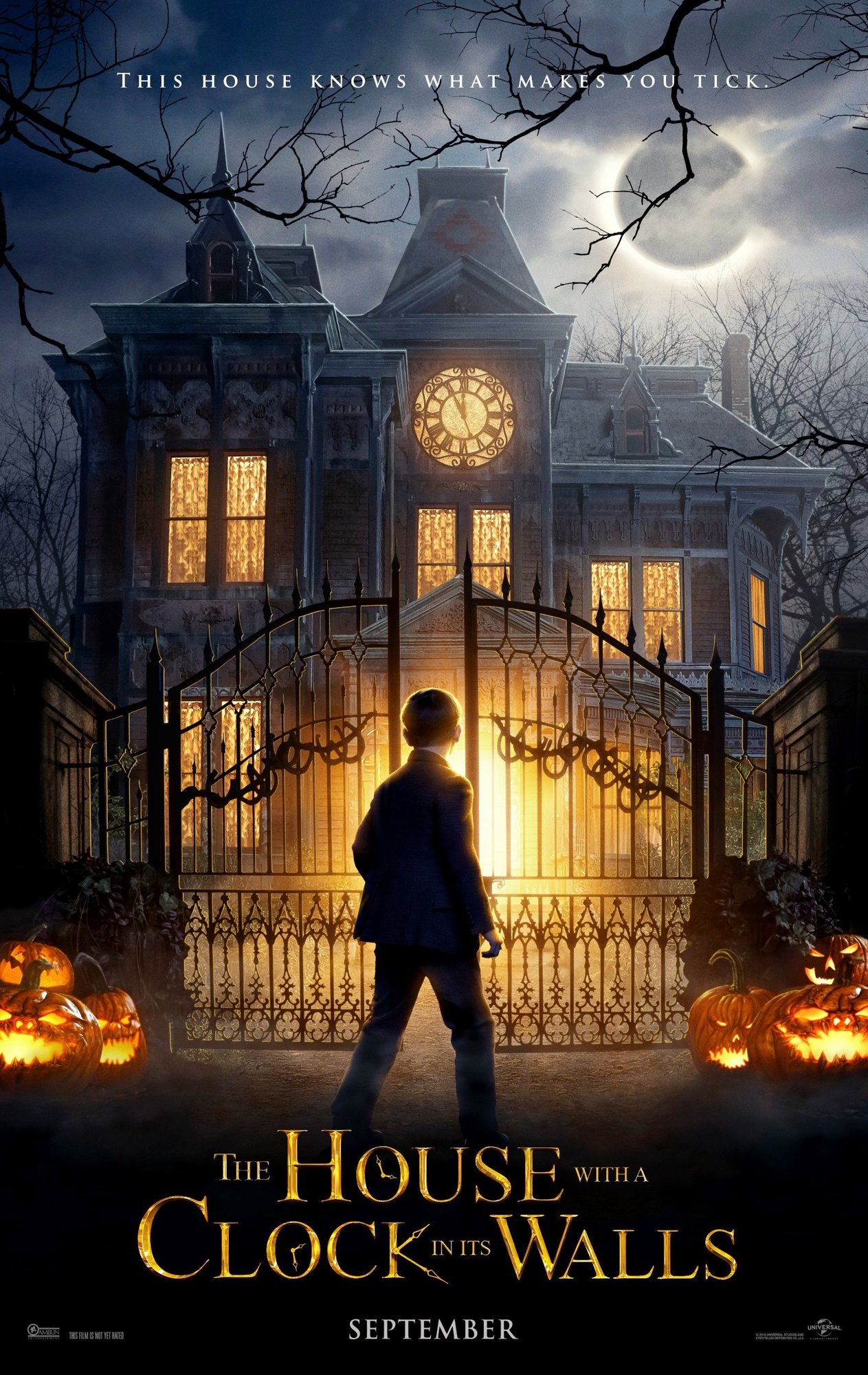 If you can't trust the time, then what can ya trust?
After his parents die in a car crash, 10-year-old Lewis (Owen Vaccaro) is sent to live with his Uncle Jonathan (Jack Black), who he knows little to nothing about. And this is on purpose, as it becomes abundantly clear that Jonathan is a bit of an oddball and possibly even a jerk. But because he's all the family that Lewis has left, he does what he can to try and stay out of Jonathan's way and hopefully, the two will forge a better connection over time. After all, Jonathan's neighbor, Florence Zimmerman (Cate Blanchett), is over all the time and likes Lewis, so maybe she can help. But while Lewis is worried about fitting in, both at home and in school, he's also got to worry about a bunch of weird and scary supernatural things happening all around him, especially in his house. The same house which, mind you, everyone keeps on thinking is haunted because, well, it is.
It's very interesting to see this much of a side-step from Eli Roth, considering where his career seemed to be headed. After the one-note and awful Death Wish remake, it seemed like Roth may have finally become something of a self-parody; he's a guy who loves his over-the-top blood, gore and violence, but doesn't really know how to transition that into an actually good film. Sure, I'm keen on Cabin Fever and the Green Inferno, but everything else is pretty schlock and not in the good way – more like the Rob Zombie way, but without all that many grindhouse-features.
So a kids movie was definitely an interesting move for him, to say the least. And it's one that, for awhile at least, seemed to be working in his favor; the House with a Clock in Its Walls is the kind of kids movie that seems to know its meant for kids and isn't afraid to do and say a lot of goofy things that kids will most likely enjoy. However, it's also not afraid to throw in some spooky stuff every now and then, which for a kids movie nowadays, is shocking. But it's all rather tame and in good fun, so it's hardly to traumatize any child that goes and sees it.
Even those jack o' lanterns are more playful than anything!
But what happens to the House with a Clock in Its Walls is that, after the initial relaxed, funny, playful, and surprisingly character-driven hour, the movie then turns into the worst kind of kids movie: The loud, obnoxious, and randomly confusing one. And in a way, this was inevitable, as the movie always hinted at a bigger, more expansive adventure just waiting to come out, but Roth gets so bogged down into the exposition, the weird twists and turns, and history that we don't really care about in the first place, it's hard to really care by the end. All of the character-stuff in the beginning seems to get a little lost and throw to the background, so that Roth can throw his budget at the screen and never let us forget it.
Cause oddly enough, the cast is quite good and with these characters, they do get a chance to try something fun. Jack Black is clearly having a ball as Jonathan, a secretive weirdo, and Cate Blanchett is clearly having the time of her life, hamming it up as Florence, Jonathan's neighbor/possible-lover. Together, they give off a campy-vibe that reminds us of something from Roger Corman and Vincent Price, but going side-by-side with Lewis' sensitive coming-of-age tale, it doesn't quite connect. One side is much too goofy to be taken seriously, and the other one is much too serious to be taken seriously with the rest of the movie.
So yeah, you have a movie that's alright and fun. But man, what could have been. I guess.
Consensus: While no doubt an interesting step for Eli Roth, the House with a Clock in Its Walls also proves that he still has some tonal and story issues to work through, no matter who the intended audience may be.
6 / 10
Photos Courtesy of: Universal Pictures