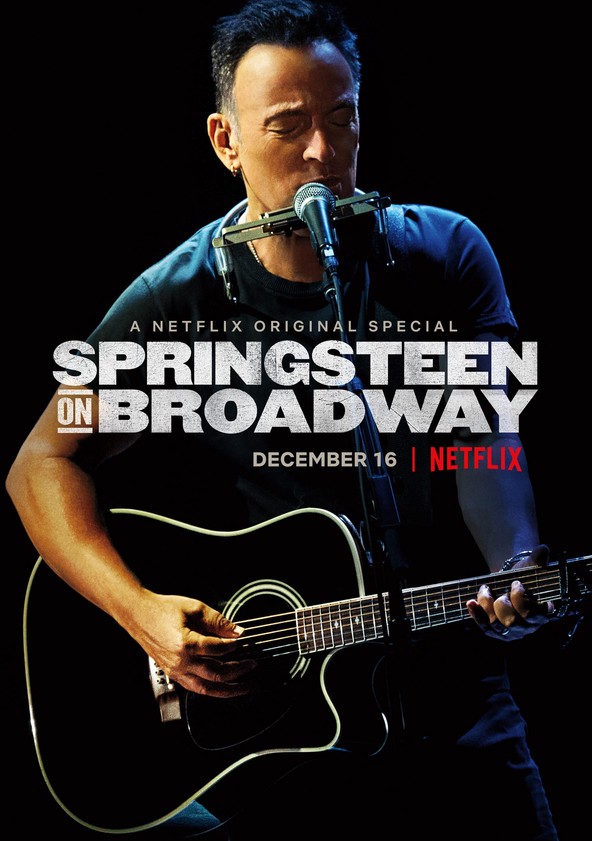 All those songs every white person over 50 listen to and love. Guess what? They're by this dude!
Just as the title says: It's Bruce Springsteen, on Broadway. But what is he doing? Playing songs? Well, yes, of course! But this time around he's also talking about his life, from his humble upbringing in New Jersey, to finally breaking into the world of music, to meeting the love of his life (Patti Scialfa), to becoming a father, and most importantly, to the present day, where a voice like his is need now more than ever.
So yes, one more time: It's Bruce Springsteen, performing, talking, and doing all that he usually does, but on Broadway.
It's really hard to review Springsteen on Broadway as anything more than a piece of performance-art, because that's what it pretty much is. And as is the case with performance-art, especially when it's being filmed live and edited for your very own eyes, after much time has passed, it's hard not to feel like one's missed-out on the true spectacle of seeing Springsteen, up close, personal, and as intimate as you'll ever get with the Boss. However, watching Springsteen on Broadway, from the comforts of my home, courtesy of Netflix, and without having to take out a loan for a single show ticket, I can safely say that I got the full experience of the show, had I been there to witness it live.
Which means that yes, it was just about perfect in every which way.
In ways, it reminded me of the last Springsteen concert I actually went to – there was a lot of laughing, a lot of hugging, a lot of smiles, and a lot of tearing-up – but because Springsteen isn't so reliant on the E Street Band there, it's a mostly settled-down, subdued affair that works surprisingly well for Springsteen at this point in his life. Getting the opportunity to just do and play off of himself, he's allowed to show shades to his persona that we don't usually see when he's up on the stage, running around, laughing, and singing his heart out; he's actually very funny and sweet, without really having to try real hard. It's weird because while we all know him as "the everyman" and is constantly hailed for being "the rockstar for the people", we actually get a closer look up close to him and realize that he is definitely human and more than just a guy who can write and belt-out amazing songs – he's got a heart and a way of telling a story.
Which also makes you think: How much of this is performed the way he's performed every night? Or how much of it was improvised? A mixture of both? I remember listening once to Chazz Palminteri talk about how he's performed A Bronx Tale so much now that he's probably changed-up his performance on it nearly 1,000 times, which seems to be a common occurrence with most one-man plays/stage-shows. In the case of Springsteen, it almost doesn't matter, the story of his life is a heartfelt one, without a single dash of pretension, and the songs, as expected, the songs still hold the same power and emotion as they normally would.
However, the real kicker is that it's only Springsteen up there, either on guitar or piano, which gives every song a stripped-down/unplugged feel, which somehow makes the songs even better in retrospect. You begin to think more about the lyrics, what he's singing about, what he's feeling, and how these songs affect him and meant to him; they may be the ultimate bangers your older-relatives throw on later on in the night to keep the party going, but to Springsteen, they mean the world to him and each hold a special place in his heart.
Even "Dancing in the Dark". Even that.
And really, Springsteen on Broadway is an emotional experience, especially for a Springsteen fan like myself. His charm is infectious, his insight is interesting, and every chance he picks up an instrument to play, it's hard not to get goosebumps. He's one of the greatest music's ever had and he continues to prove why his voice, while no doubt aging, still deserves to be heard and praised.
Please stick with us, Boss. We need you now for the long-haul.
Consensus: Exciting, infectious, heartfelt, and surprisingly emotional, Springsteen on Broadway is the perfect up close and personal look at the Boss, whether or not you're already a fan. But hey, it definitely helps if you are a fan.
9 / 10
Photos Courtesy of: Netflix