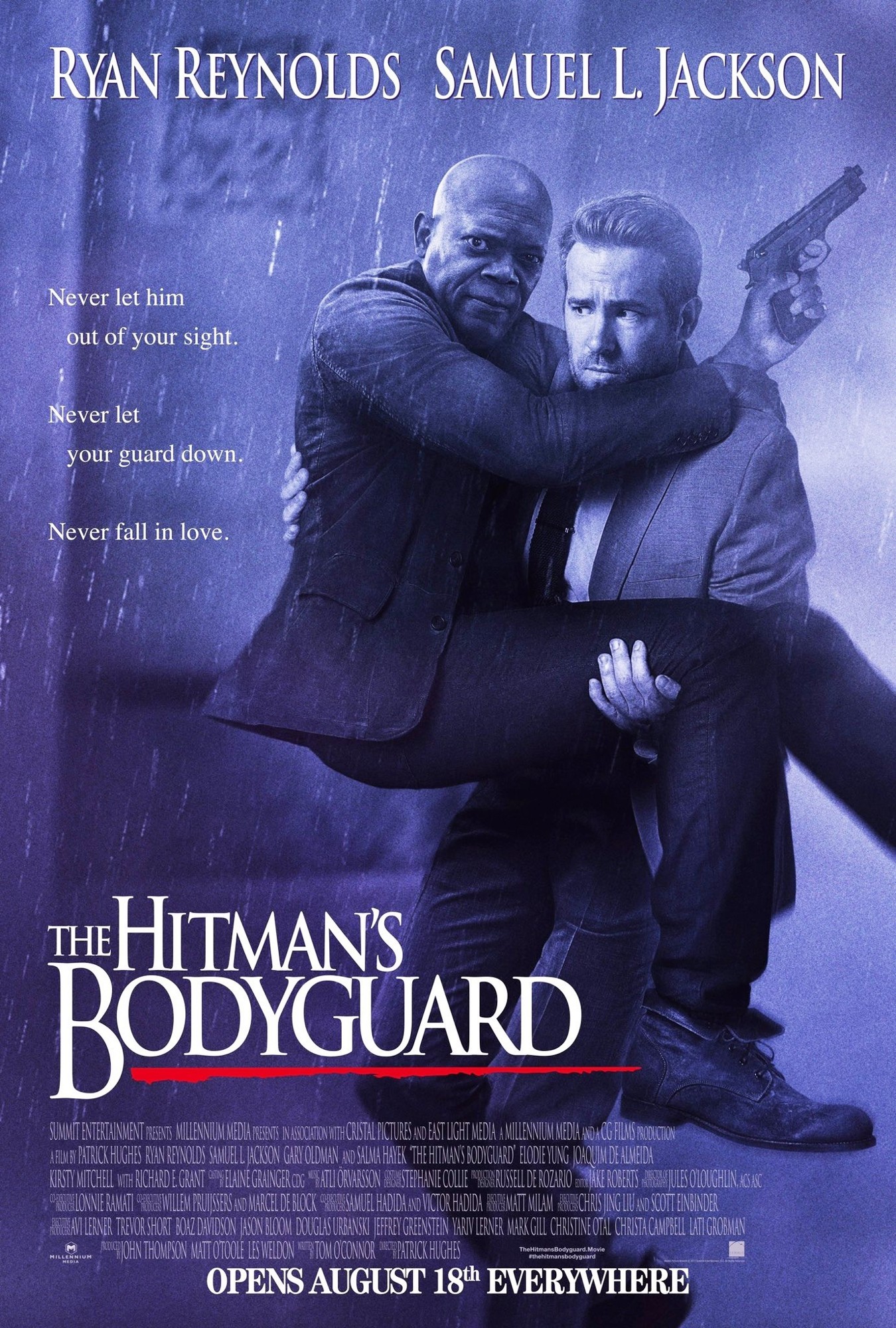 Looks like T-Swift's gonna need one of these soon.
The merciless dictator of Belarus (Gary Oldman) is being held-up on charges of some serious war-crimes, but for some reason, there's no real clear-cut evidence against him. The only option imaginable to actually come in front of a court and testify to this man's heinous actions is Darius Kincaid (Samuel L. Jackson), a notorious contract-killer who is currently serving a pretty long sentence for his various kills in his storied-career. So yeah, he signs a deal to come forward, but now, his name is out there and people want him dead. So what does one do for a hitman who needs protecting, especially for the next 24 hours? They call up the hitman's bodyguard, who also happens to be Michael Bryce (Ryan Reynolds), a straight-laced bro who is also reeling from a bit of heartbreak. Now, it's up to Michael to make sure that Darius can stay alive and testify, or else it's not just his ass on the line, but possibly his life. Only issue: He and Darius don't exactly see eye-to-eye.
Like, on anything.
The Hitman's Bodyguard wears its late-80's, early-90's action-comedy influences on its sleeve and doesn't really make any sort of excuse for it, either. In a way, that's sort of commendable – it's like all of those Tarantino rip-offs we got about midway through the 90's that tried to be something that they clearly weren't. But in this case, the movie isn't wholly trying to be something it isn't – it knows it's stupid, silly, wacky, and over-the-top, and it's kind of fun for that reason alone, right?
Well, uh, yes and well, uh, no.
See, the one issue with the Hitman's Bodyguard is that it's a lot of things all wrapped-up into one, without ever making total sense of itself. Sure, it's a dark comedy that flirts with the idea of heinous, ugly violence being played for laughs, with constant swearing and nudity being flung everywhere, but it also seems like it never knows when to tone any of that down. Cause the jokes don't always land, the camaraderie doesn't always work, or hell, make sense, and the plot, despite the constant twists and turns, just doesn't make sense. You get the sense that director Patrick Hughes sort of got this right from the get-go, so rather than taking his time on every little plot-detail, he kept everything moving as fast and as crazy-quick as he could.
Still, it doesn't keep the movie away from being shy of two hours, but yeah, it does help that the movie knows how to keep itself going, even if it is only to distract us from the fact that there are some problems here. Like, for instance, the script just isn't as funny as it thinks it is; the constant conversations between Jackson and Reynolds, while occasionally amusing, also grow tired and old, after about the fourth or fifth one that clocks in at about ten minutes. It's nice to have an action-comedy that cares this much about dialogue and listening to two characters, essentially, just banter about, but it makes you wish that the script itself were better.
Or hell, that the jokes were funnier.
Instead, we get some lame punchlines, callbacks, and oh yeah, forced drama about love, life, and careers. It doesn't work and it's sure as hell hokey, but once again, there's at least an attempt to do something here. Would this have all been handled a lot better in the hands of Shane Black? Most definitely. But that guy wasn't around, because he's off trying to make another classic and because of that, we get Hughes working from Tom O'Connor's script. Whether these two saw eye-to-eye on what exactly was hilarious about this script or not, isn't shown in the final-product, because it's sort of like everything gets thrown at us, at once, without any break in the action.
Which can be fine, too, because the movie does have some solid action-pieces and bits and pieces from Jackson and Reynolds. In fact, Reynolds and Jackson are probably the true reasons to see this; they clearly have great chemistry with one another and also show that, despite them both being charismatic as hell, they also know when to give the other the spotlight. They're not constantly duking it out to see who gets the better lines or the shinier moments, they're just having fun and trying to invite us in on it, too.
Shame that doesn't quite happen, though. Once again, however, there is an effort. And that's all that matters.
Consensus: Perhaps not as hilarious or as smart as it thinks it is, the Hitman's Bodyguard benefits from some fun action and a solid pairing of Reynolds and Jackson who, despite not having the best material to work with, wade through it all with their dignities still in-tact.
5.5 / 10
Photos Courtesy of: Aceshowbiz